If you use our TV services in the UK (England, Scotland, Wales or Northern Ireland), you will need a compatible VPN service... That's where Liberty Shield comes in!

(tap or click the logo above to order your VPN router!)
Liberty Shield are a hardware-based VPN (virtual private network) provider. (They are an independent business, not linked to POLEX TV). VPNs provide online security and anonymity to their users, and enable the unlocking of geo-restricted content. VPNs are legal to use, and are useful for international users who have trouble accessing content normally only available in certain regions of the world.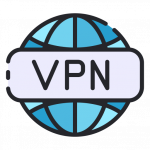 Many VPN services are software-based, meaning that you install the service on individual internet devices like phones and tablets - great if you're always on the move and need to take your VPN with you. Liberty Shield are hardware-based, which is a better solution for permanent home-based equipment that doesn't move, or for any devices that can't have extra software installed on them (such as the TV systems we supply)… Simply connect the small Liberty Shield VPN router to your main internet router with the cable supplied, and the VPN router will create an additional WiFi network within your home. Then connect as many internet devices to the VPN router over WiFi as you like, and these will be permanently routed through the VPN!